Carlo Curatolo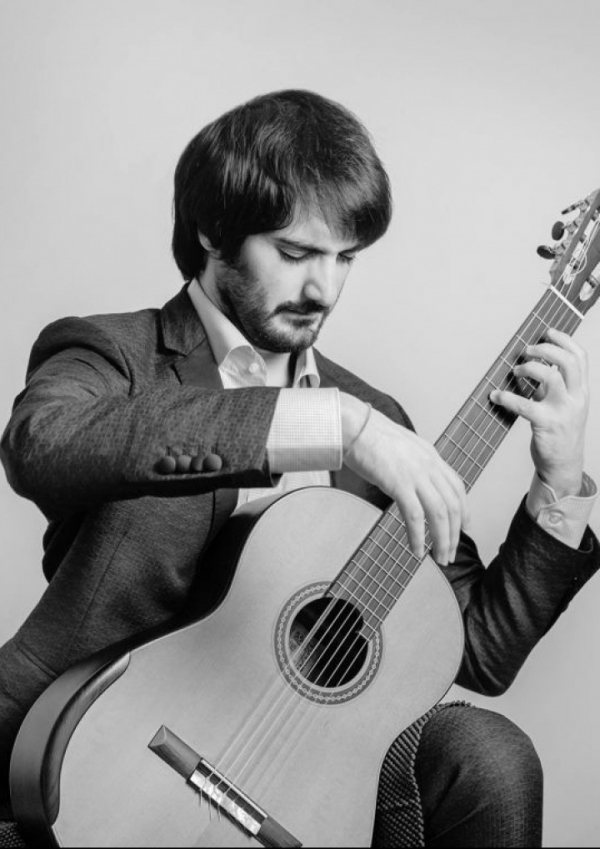 « He has won prizes in many national and international competitions »
Carlo Curatolo (Grottaglie, 1988) learned the basics of classical guitar from Pino Forresu and Francesco Taranto. Graduated in 2010 with full honours from the Conservatory G. Paisiello (Taranto, Italy), he also obtained a Master's degree in Physics at the Sapienza University of Rome in 2016. He attended Master classes by C. Bonell, C. Domeniconi, J. Perroy, J. Cardoso, L. Brouwer, F. Cucchi, C. Marchione, P. Pegoraro, among others. He continued his studies at Civica Scuola della Arti (Rome) with Stefano Palamidessi and at the Segovia Guitar Academy in Pordenone, with Paolo Pegoraro and Adriano del Sal.
He has won prizes in many national and international competitions in Italy and abroad, among which: first prize at the 1° Città di Celano National Guitar Competition (2011), and the 40° Ansaldi National Guitar Competition (Medal of the President of the Italian Republic), Roburent (2016); and second prize at the Alirio Diaz International Guitar Competition, Rome, and the Borguitar International Competition in Borgo Val di Taro.
He has performed at various cultural (Palio di Taranto, Festival Federico Cesi) and major
concert
events (Festival dei Due Mondi in Spoleto, I Colori della Musica in Celano), both as soloist and in ensemble, earning positive reviews in national and local newspapers. He collaborated with the famous Italian actress Giorgia Trasselli for the event L'Eterno Femminile organized in Rome by Fabrica Harmonica, on the occasion of the International Women's Day. He combines his performing career with his well-attended teaching class in Rome. He has been invited as a member of the Jury at several national competitions.
Carlo Curatolo plays a guitar made by Mirko Migliorini (Lecco, Italy).

Video